Jerusaviv?  The high-speed train connecting Jerusalem and Tel
Aviv

is set to transform the demographics and character of the Holy City – offering both increased opportunity and threats to its traditional nature.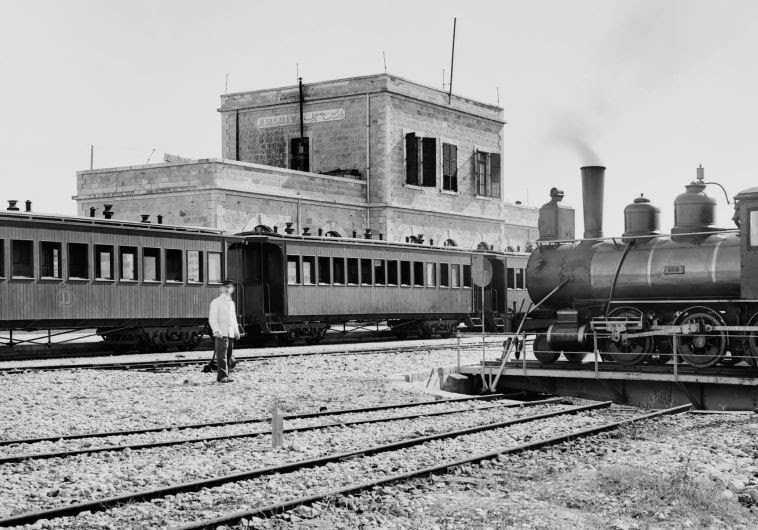 The Jaffa-Jerusalem Railway. (photo credit:Wikimedia Commons)
In three years, the distance between Jerusalem and Tel Aviv will be radically shorter, as a high-speed railway will cut travel time to only 28 minutes – down from the current 45 to 90 minutes by car or bus, which are subject to unpredictable traffic.
This will inevitably affect the capital – and the big question is how.
Around the world, it has been common to belittle the effect of a new railway line or other fast connections between two cities. Historians point to the great underestimation of the revolutionary nature of the first trains when they arrived in the mid-19th century.
One late-19th-century commentator reflected that "in the earliest period of European railway construction, some practical people were of the opinion that it was foolish to build certain lines because there were not even sufficient passengers to fill the mail-coaches." That commentator was Theodor Herzl.
Herzl himself took a four-and-a-half-hour train ride from Jaffa to Jerusalem in 1898, which he described as pure torture, "sitting in a cramped, crowded, burning- hot compartment." As a result of the rough ride, he developed a high fever on the train. The Friday train was also delayed an hour in leaving Jaffa and therefore arrived after the start of Shabbat, forcing the sick Herzl to limp his way from the station to his hotel.
Now, 120 years later, this torturous ride will be replaced by a journey of less than half an hour on a state-of-the-art highspeed train. But what will that mean for Jerusalem?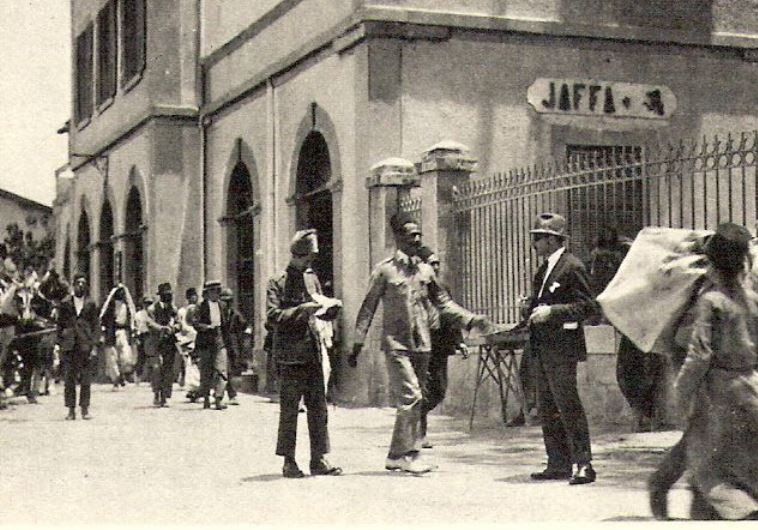 The Jaffa-Jerusalem Railway. (photo credit: Wikimedia Commons)
WHILE MANY believe the high-speed railway will open up new horizons for the capital, Prof. Amiram Gonen of the Jerusalem Institute for Israel Studies warns it might also have negative implications.
"Everybody is talking about the miracle that will come due to the railway, but it is a toss-up," he says. "There are benefits, but there are also threats that the railway brings with it. Jerusalem has populations at risk of leaving it; secular residents [in particular]… are at an increased risk of leaving Jerusalem once the railway arrives."
Elisheva Mazya, CEO of New Spirit (Ruah Hadasha), a nonprofit committed to keeping young people living and working in the capital, is afraid of exactly that.
"Government employees and students at the Hebrew University and Bezalel Academy of Arts and Design account for a large portion of Jerusalem's secular population," she notes. "Many of these people live in Jerusalem today because the commute to Tel Aviv is too long and difficult, but once the commute is shorter and easier, many of them might opt to live in Tel Aviv and take the daily ride to Jerusalem."
She points to Egged bus No. 100, which goes directly from the government compound in Givat Ram to the park-and-ride at Shapirim interchange. She believes this bus line served as an incentive for people to choose Tel Aviv.
"Yet the bus still gets stuck in traffic, and the ride is still long. The train will be a much more viable threat," she says.
Another test case is the train to Beersheba.
Gonen says the improvement of speed and frequency of that line was an indication of what might happen in Jerusalem: "The rail line to Beersheba that was meant to help the desert city ended up also hurting it. This was seen most profoundly at the city's Ben-Gurion University of the Negev. Ben-Gurion professors who lived in Beersheba prior to the improved railway service and injected life into the city left it when the service improved."
And that's for an 80-minute commute. It doesn't take much to extrapolate what  could happen when the first choice of residence is under 30 minutes away.
Still, Gonen adds, "what counts is not just the speed of the train, but what is at its end. We know the Tel Aviv end is attractive, especially to secular [residents]. The question is what would be on the Jerusalem end."
Mazya has internalized this message and views the arrival of the railway as a deadline.
"The big question is what will be able to be accomplished in Jerusalem before the railway arrives: What will be the vibe, what will be the quality of life. We only have a few years," she says.
With this in mind, New Spirit, the municipality and other organizations have been accelerating some in-house cultural and social programs to make the city an attractive choice. The intense groundwork is essentially a marketing campaign geared toward convincing the secular population to stay in Jerusalem.
Mazya is focusing on government employees, contending that part of the problem is lack of after-work activities.
"In the US's Capitol Hill [area], there are cafés, there are bars, there is an afterwork happy-hour vibe. In Givat Ram [where the Knesset is headquartered], there is not even one café or bar. No wonder people would want to leave and go to the bars of Tel Aviv."
To address this, she has initiated a weekly pop-up bar outside the Knesset. The bar is part of a host of activities that have been emerging in Jerusalem. But some think the challenge goes beyond specific programs.
Elan Ezrahi, a veteran community activist and chairman of Ginot Ha'ir Community Council, stresses a deeper issue: "There is a fundamental brand difference between what is Tel Aviv and what is Jerusalem. The image tends to get exaggerated. There is plenty of conservatism in Tel Aviv and plenty of liberalism in Jerusalem, but it is the exaggerated image that dictates the brand."
Notwithstanding the efforts to keep secular young people in Jerusalem, Ezrahi, like Gonen, calls attention to an important fact: "The train goes both ways."
ONE PERSON who has found the Jerusalem end of the railway appealing is Dr. Hadar Jabotinsky, a financial regulation lawyer who teaches at the University of Haifa, Sha'arei Mishpat College in Hod Hasharon, and the Hebrew University of Jerusalem.
Jabotinsky, who is secular, did not expect to move to the capital, until she got a taste of the city.
"People say hello in the street, people smile at you, people you barely know take genuine interest," she says. "They ask where you are for holidays or Shabbat, invite you to their homes. It is much more communal. I love Tel Aviv and am proud to have lived there for 11 years, but I did not see any of that there."
Of course, she adds, "no doubt there are more complexities in Jerusalem, but it is a positive complexity. Jerusalem has a high culture."
Could this high culture and greater communal life attract other Tel Avivians to Jerusalem? As the White City's housing shortage continues, would the high-speed railway sway people to reside in the capital and commute to Tel Aviv? Would a young couple seeking an apartment outside of Tel Aviv view the Jerusalem alternative similarly to the way they would view Ra'anana or Petah Tikva? According to sample Waze measurements, the rush-hour commute to Azrieli Towers in central Tel Aviv is 44 minutes from Ra'anana, 35 from Ramat Hasharon, and 35 from Shoham – all cities without train connections.
These are longer and arguably less comfortable commutes than the 28 minutes it would take from Jerusalem using the high-speed railway.
Moreover, the capital's reliable in-city light-rail system makes not only its center quickly accessible to Tel Aviv, but also its outer neighborhoods, with commuting time comparable to the Tel Aviv suburbs.
Factoring in transfer and wait time, the Kiryat Moshe neighborhood is just 40 minutes away from central Tel Aviv; Beit Hakerem, 45 minutes; and French Hill, 60 minutes.
Alleviating a housing shortage by bridging two metropolises with a fast connection has been done before. The New York boroughs of Manhattan and Brooklyn were always close geographically, but the ferry ride across the river that separates them was subject to weather conditions and long rush-hour lines. This all changed when a bridge connected Manhattan and Brooklyn in 1883.
According to historian David McCullough, the Brooklyn Bridge was not built to get to Manhattan – it was built to get to Brooklyn. As he writes in his book The Great Bridge, the link was viewed as the "long-needed pressure valve that would do much to alleviate New York's two more serious problems, crime and overcrowding."
And in fact, the bridge did a lot for Brooklyn. As McCullough writes, "it stimulated growth, raised property values…. It put Brooklyn on the map."
JABOTINSKY IS worried about a similar rise in the already high rents in Jerusalem as a result of the upcoming railway. But she is more concerned that the appealing cultural aspects she found in the Holy City will be compromised.
"Jerusalem is much more reflective of the totality of Israeli society," she says. "I have neighbors and friends of all varieties: kippa sruga [typical of the national-religious], haredi, Arab Christian, Muslim, Druse. But it's not just the people, it's how they behave. I was so impressed that a few times I had conversations in Jerusalem where people stopped mid-sentence and said, 'I shouldn't say this, it's lashon hara [derogatory speech].' And these are not only religious people. I did not see this any place before in Israel or around the world. It is the nature of Jerusalem."
Are such cultural aspects at risk once the high-speed railway ushers in domestic migrants and day-visitors? The mass domestic migration into vibrant Tel Aviv in the last decade contributed to the exaggerated image of the Tel Aviv "brand," as some of the young emigrants sought to be, as it were, more Tel Avivian than Tel Avivians.
Is this brand likely to influence Jerusalem? Will there be fewer smiles in the capital? Less optimism? More cynicism or aggressiveness? Growing amorphousness of lines? Ideologically, will the post-Zionist fashion brewed in small yet vocal circles of Tel Aviv take the train into Zion? Gonen is not worried.
"Jerusalem is immune," he says. "Each community in Jerusalem has its own fences to protect itself from such influences. The haredi community has effective walls, while other groups have other effective protections."
But regardless, he believes the nature of the threat should not be overstated.
"Tourists come and go. Day visitors do not change a culture. They go into bubbles – bubbles of museums, of cafés," he says. "They will not affect the culture of Jerusalem."
Ezrahi echoes some of this sentiment.
"The train is just a vehicle," he says. "With all the amazing stuff it brings, it is only one factor in something that will or will not happen in the urban revolution of Jerusalem. It is part of a wider process. Let's not forget, it only goes from point to point; it is likely to be more relevant to tourists, people going to the beach, people who want to put a note in the Western Wall."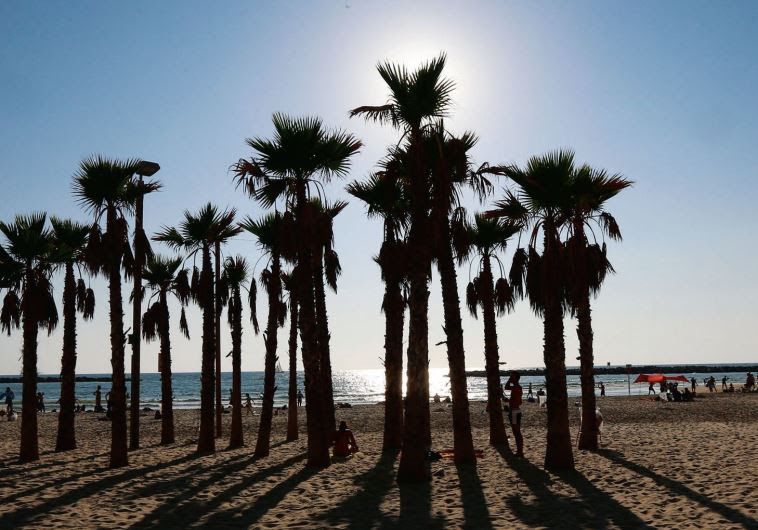 Tel Aviv beach.(photo credit: GOISRAEL)
Still, the feeder trains to the point-to-point high-speed line are from places as far as Hadera, Haifa and Rosh Ha'ayin.
This would radically expand the accessibility range to Jerusalem. Suddenly over 60 percent of the country's population would be within less than an hour's travel of Jerusalem. As Herzl wrote, "Travelers do not produce railways, but conversely, railways produce travelers."
EVEN BEFORE the railway's arrival, Israelis have been gradually starting to discover Jerusalem culture. Over the last few years, people have increasingly been coming to Jerusalem for events such as the Light Festival, the Formula One race, the Jerusalem Season of Culture and the Israel Museum's Wine Festival.
Human traffic jams are already visible on certain days in the Old City, the First Station and the shuk.
More Israelis are discovering that today's Jerusalem is as culturally accessible as the rest of the country. More Israelis are shedding a legacy of idealizing secularism and are recognizing that the past that Jerusalem preserves is an integral part of their present. Arguably this "de-stigmatized" Jerusalem is one of the rising brands in the nation's culture.
This begs the question: Will the train blur the differences between Tel Aviv and Jerusalem, or will it make them more distinct? In the case of New York, the Brooklyn Bridge and the bridges and trains that followed it turned Brooklyn and Manhattan into a single metropolis, later to be called New York City. Will central Israel's two cities do the same, becoming a "JerusAviv"? Or will the train enable people to choose one or the other, based on their personal preferences rather than simply work considerations?
When faced with deciding in which of the two cities he should spend the majority of his visit to the Holy Land, Herzl opted for Jerusalem. Six of the only 10 days he ever spent in his ancestral homeland were in Jerusalem. Since he was waiting to be summoned for a much-desired audience with German Kaiser Wilhelm II, who was on a royal visit to Jerusalem, the commute to Jaffa would have been impractical. Like many of today's government employees who execute the vision Herzl crafted, Herzl's own decision was driven by practicality: The length and uncertainty of the four-and-a-half-hour commute left him little choice.
But a mere 20 years later, Zionist leader Ze'ev Jabotinsky did have a choice – and, riding on the same railway tracks that Herzl had ridden before him, he opted to move from Tel Aviv to Jerusalem.
A contemporary of both men, Aharon Mazya, faced that choice as well. Having worked as a doctor in the Jewish colonies and in Jaffa, he chose to settle in Jerusalem.
Now, the fourth and fifth generation of Zionist leaders such as Hadar Jabotinsky, Elisheva Mazya and an entire generation that grew up in the chasm between Tel Aviv and Jerusalem are on the cusp of some decisions about the two ends of the high-speed train. On the western end, the city named after Herzl's utopia is one of the world's premier bastions of creativity, innovation and ingenuity. On the eastern end, the city that served as a prime inspiration for this utopia is one of the world's premier centers for spirituality, intellect, culture and diversity, an exporter of Torah of all kinds.
Whatever selection each individual makes, it is a choice between two superb alternatives of which the founding fathers could only dream.
The writer is America-Israel Friendship League think tank. The views he expresses are his own and not those of the AIFL.
More Jerusalem Post articles by Gol Kalev: www.jpost.com/Author/Gol-Kalev